Harold's Koffee House: In the Heart of Historic Florence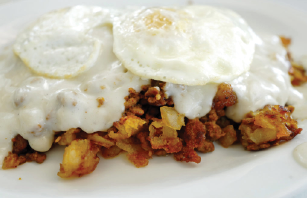 Harold's Koffee House is very popular among the residents of the Historic Florence community. Harold Halstead started out in the restaurant business working for the Harket's Hamburger chain.
After several years the trio decided to split and that's when Halstead started Harold's Koffee House at 8505 North 30th street.
In 1968 Halstead moved the "Koffee House" to its current home at 8327 N 30th street.
I went to Harold's Koffee House on Friday October 11, 2019 and sat down and had the Chorizo Hash, the taste had all sorts of amazing flavors all combined in one bite!
As the plate came out hot, the steam was seen surround the hot hash brown, giving it some type of glow.
The chorizo hash was topped off with a heavy cream gravy poured smoothly and amazingly on the hash brown.
I'd say that the chorizo hash was worth every buck beside being less than $10.
My rating of this breakfast meal would be a 5 out of 5 stars. I really liked how everything was blended in together.
The presentation made me feel like I was at home enjoying an amazing breakfast.
As I walked in, I automatically get the feeling of an old school dinner. The servers were kind and respectful.
The original owner, Harold has passed on for a while but his family it continued running the family owned business. The ownership of the small restaurant has been passed down the line. However, the current ownership is being held by Harold's grandson, Matt Bohenkamp.
They make all kinds of homemade deliciousness such as pies, doughnuts, hash browns and sweet rolls made daily.
I would highly recommend Harold's Koffee House, it had a amazing vibe to it and you'd probably enjoy it!.