Wrestling Conditioning the season is right around the corner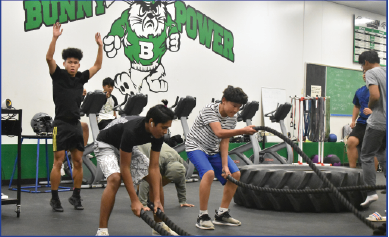 The wrestling season is right around the corner, but our wrestlers have been in conditioning since October. The training of the wrestlers consists of weightlifting, cardio and some footwork but also focuses on their diets as they aim to make weight classes once the season starts.
"In my opinion [wrestling] is one of the most demanding sports for high school students because it's hard to ask anybody to watch their weight and to be on a diet," Coach Marcus Hilario said.
The wrestlers have to be committed to the sport as it is somewhat of a sacrifice. They must be very disciplined to meet their pre-season goals.
"One thing you have to do is a hydration test to see what the lowest weight class they can go is," Hilario said. "We also have weigh-ins on Friday and sometimes they have to skip lunch and wait until they weigh in to eat."
Each wrestler is very different, they all need to make different weight classes and have varying resources available to accomplish their pre-season conditioning, so it is made to be accommodating to everyone.
"Some people can go to the store and get whatever they want, so it makes it a little easier and some students don't so it might become more difficult," Hilario said. "We try to give them a handout and if they need help, we have them talk to our athletic trainers as well."
Since changing eating habits is not something to be taken lightly, parents are also informed of the implications of the conditioning their children have to undergo.